Import

SiriMoto Stainless Steel Clutch Line
Imports that support SiriMoto Stainless Steel Clutch Line
SiriMoto Stainless Steel Clutch Line Description
Designed for Manual Transmissions ONLY.
Enhances clutch feedback and a firmer pedal feel for crisper engagement.
Easy install - Video installation instructions available.
Steel braided design, an improvement over OEM rubber hose.
Protective coating for a long life.
Covered by SiriMoto's 1 Year Limited Warranty.
Completely bolt on design.
Positive clutch feel improves shifting.
High quality steel braid with a PVC coating.
PTFE inner coating is impervious to corrosive fluids.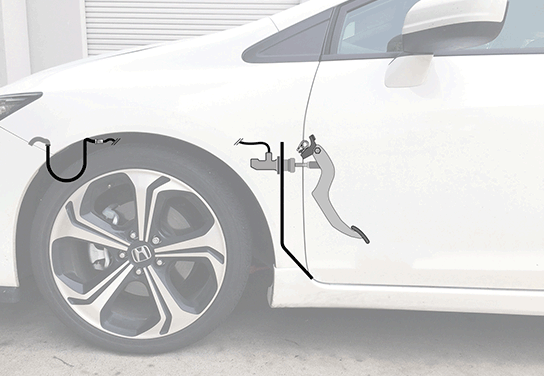 Eliminates clutch line expansion, resulting in better feel / feedback
The SiriMoto Stainless Steel Clutch Line replaces the standard, often mushy, OEM hydraulic line with a high-quality, long-lasting, stainless steel braided line. Designed to be a direct bolt on, these lines are a great upgrade especially when upgrading to a clutch that has a higher clamping load than the OEM unit. It will improve the clutch pedal feel and allow for crisper clutch engagement.
The SiriMoto stainless steel braided clutch line will not flex like an OEM rubber hose and will outlast the competition because SiriMoto uses a protective Red PVC coating, keeping dust and grime away. Also, the SiriMoto stainless steel braided clutch lines feature a PTFE inner liner, that is impervious to corrosive fluids.
All of these features allow you to have peace of mind in that you will have a clutch line that is very robust and can handle the stresses of racing, whether it be auto-cross, road racing, or hard driving through mountain passes. Flying debris can especially be an issue in racing conditions, and having a stainless steel braided line coated with PVC will provided added protection against abrasion and corrosion.
Availability and Condition: Unless otherwise noted, this product is in brand new condition and usually in stock at one of our warehouses, or will ship directly from the manufacturer.